G-Forum 2017
The Jackstädtcenter is glad, that the G-Forum, the biggest annual German conference for entrepreneurship, innovation and medium sized companies, will take place in Wuppertal on the 5.-6. October.
The conference theme of the 21th G-Forum is "Sustainable Entrepreneurial Ecosystems:How docontextual factors support and constrain sustainable entrepreneurial activities in a regional ecosystem?"
Submissions are possible until 24th May; for more detailed information see call for papers.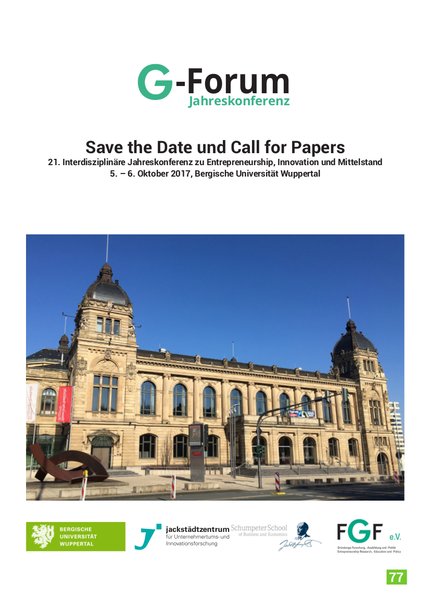 Keynote-Speaker
Prof. Dr. Dr. Ann-Kristin Achleitner, Professor for Entrepreneurial Finance and co-director of the Center for Entrepreneurial and Financial Studies belonging to the TUM School of Management, Technical University Munich
Prof. David B. Audretsch, Ph.D., "Distinguished Professor" and holder of the Ameritech Chair for Economic Development, director of the Institute für Development Strategies associated to the School of Public and Environmental Affairs, Indiana University Bloomington
Prof. Simon C. Parker, Ph.D., Professor for Entrepreneurship and director of the Entrepreneurship Cross Enterprise Centre belonging to the Ivey Business School, London, Ontario, Kanada
For further information about this year´s G-Forum visit the official website.