Enactus Regional Cup North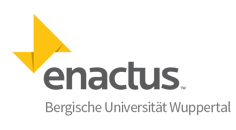 On 23th of may 2014 the "Enactus regional cup north" will take place at the "Bergische Universität". About 350 students from 20 universities will present their projects.
Enactus, that means "entrepreneurial", "action", "us" is a worldwide association where students encourage in social projects that benefit the living conditions of people in the world.
In cooperation with regional economy the Enactus Team Wuppertal show entrepreneurial spirit, using innovative ideas to support social institutions like the "Troxlerhaus", an educational institution for disabled people. The Chairwoman Prof. Dr. Christine Volkmann and director of the Jackstädt Center Prof. Michael J. Fallgatter promote the event and will give an introduction to the participants.
You will find more information on the Enactus Regional Cup and the EnactusTeam Wuppertal on this link.