Contact
Feel free to contact us! We are looking forward to your mail. In case of general inquiries, please write to jackstaedt(at)wiwi.uni-wuppertal.de.
In case of specific inquiries for members of the Jackstädt Center, please use the respective mail addresses. You find them on our team site.
Directions to the Grifflenberg Campus: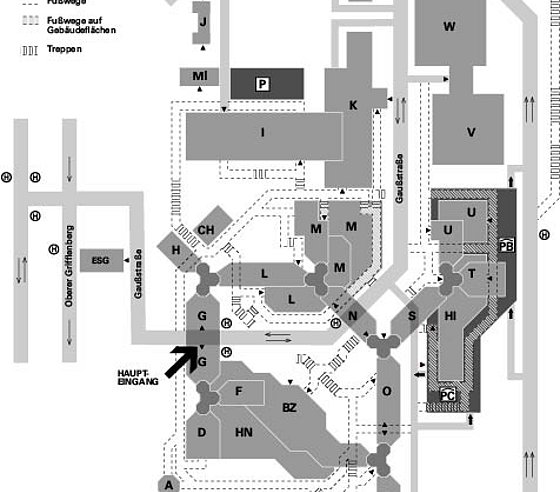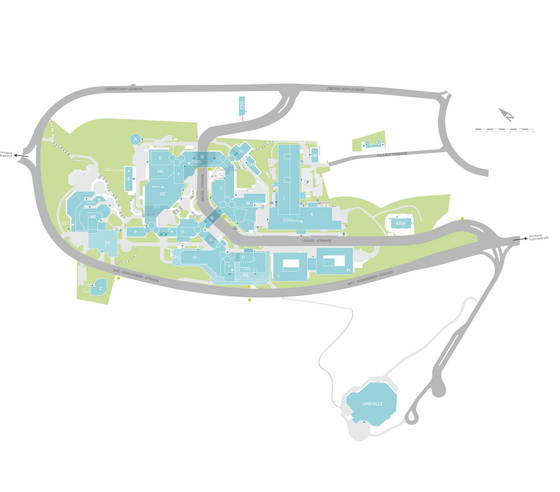 The Jackstädt Center can be found on the 12th floor in the "M" Building on the Grifflenberg Campus.
Directions to Campus from Public Transportation: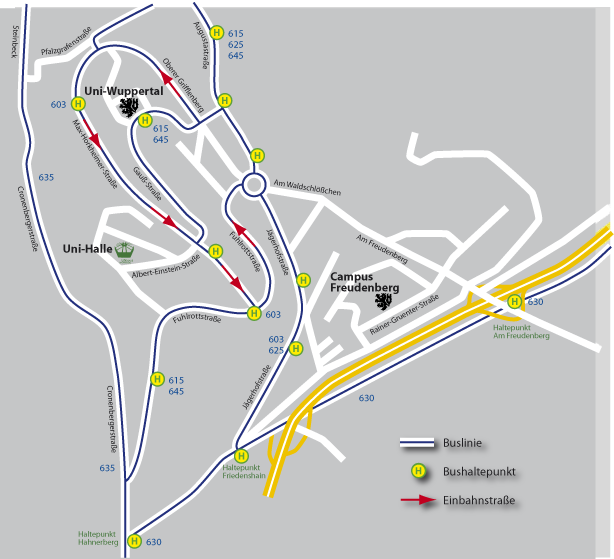 You can reach the Wuppertal Main Train Station (previously Wuppertal-Elberfeld) with any train (ICE, Regional train, or Subway-S-Train).

At the Main Train Station, the bus stop "Wuppertal Hbf/Döppersberg" one can take the following bus lines to the University stop "Universität":
Bus 645 (direction "Schulzentrum Süd")
Bus 615 (direction "Remscheid Friedrich-Ebert-Platz")
Bus E (Express bus to University, does not fun during semester holidays)

Additionally, one can take the following bus, to the stop "Mensa" which will bring you close to building "P."


Bus 603 (direction Küllenhahn or Campus Freudenberg)
Directions from the Highway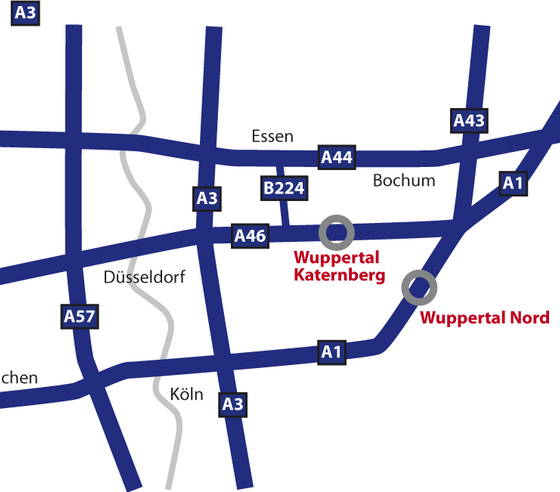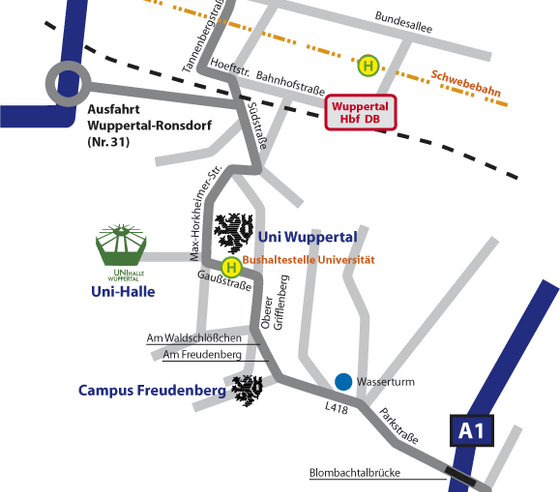 In your navigation system, set the destination to "University of Wuppertal Campus Grifflenberg". Please make sure that no other campus is selected!
Link to Campus on Google Maps
Alternatively, you can use the following descriptions for getting to the Jackstädt Center
From BOCHUM
Take the A43 to BAB-Kreuz "Wuppertal-Nord"
Take A46 to the exit "Wuppertal-Katernberg" (Nr. 33)
Follow the signs that read "Universität"
From DORTMUND
Take the A1 to Kreuz "Wuppertal-Nord"
Take the A46 to the exit "Wuppertal-Katernberg" (Nr. 33)
Follow the signs that read "Universität"
From DÜSSELDORF
Take the A46 to the exit "Wuppertal-Ronsdorf/Cronenberg" (Nr. 31)
On the expressway follow the street to the right in the direction "Elberfeld/Universität"
Then go through the "Kiesberg Tunnel" to the "Viehhofstraβe"
Then follow the signs that read "Uniersität"
From ESSEN/VELBERT
Take the B224 to "Sonnborner Kreus"
Take the exit "Wuppertal-Ronsdorf"
Then follow in the direction "Elberfeld/Universität"
Go through the "Kiesberg Tunnel" then onto the "Viehhofstraβe"
Then follow the signs that read "Universität"
From KÖLN
Take the A1 to the exit "Wuppertal-Ronsdorf" (Nr. 94)
Take B51 to the direction "Wuppertal-Mitte/Wuppertal-Ronsdorf"
After 1.5km make a left in the direction "Elberfeld (Blombachtalbrücke)"
Continue straight until you go past the Water Tower, and follow the "Vorfahrtsstraβe"
Follow the signs for the "Universität" (the second exit)
Parking:
For the most part, parking garages, and parking spaces near the University are free for everyone to use.

Please be careful of the opening hours of the parking garages (with one exception by the Special events)

Mo-Fr: 7.00 am - 10.30 pm
Sa-Su: closed